At Inspire Pest Control, we believe our mission, purpose, and core values make us who we are. Together, they create a unique fingerprint that identifies and separates us from other companies. With our core values as our framework, we believe that profits will never drive our success the way our purpose and mission can.

Wonderful, on time, more thorough than any pest service, while wonderfully managing questions of my inquisitive 3 small children. I am grateful that I've switched and will not go anywhere else. If you're looking for a hard working, thorough pest service that is locally owned, look no further.
Our Purpose
The purpose of Inspire Pest Control is to glorify God and enrich lives by providing an opportunity for His people to use their skills and gifts to advance His Kingdom. We do this by providing service through pest control, serving the community, and funding both local and international Gospel mission efforts with a portion of profits.
Our Mission
Inspire Pest Control will continuously grow and improve to be the best pest control company in the Birmingham area. Inspire Pest Control will provide solutions and a top of the line pest prevention service that exceeds our customer's expectations.
Professional
If we are faithful in very little, we will also be faithful in much. Because of this, we believe our appearance, attitude, and approach toward customers makes a difference.
Thorough
If it's worth doing, it's worth doing right the first time and with our undivided attention.
Innovative
We will evaluate and critique all areas of our company with an eye for improvement and a desire for constant advancement.
Enthusiastic
As we continually innovate and improve our craft, we will become more passionate and enthusiastic about our work. We will work hard, laugh often, and play hard.
Knowledgeable
We commit ourselves to be students of pest and pest control solutions. We take pride in this knowledge and being experts.
Safe
We will invest the time and money necessary to ensure the safety of our employees, customers, and the general public. We will further protect property and the environment.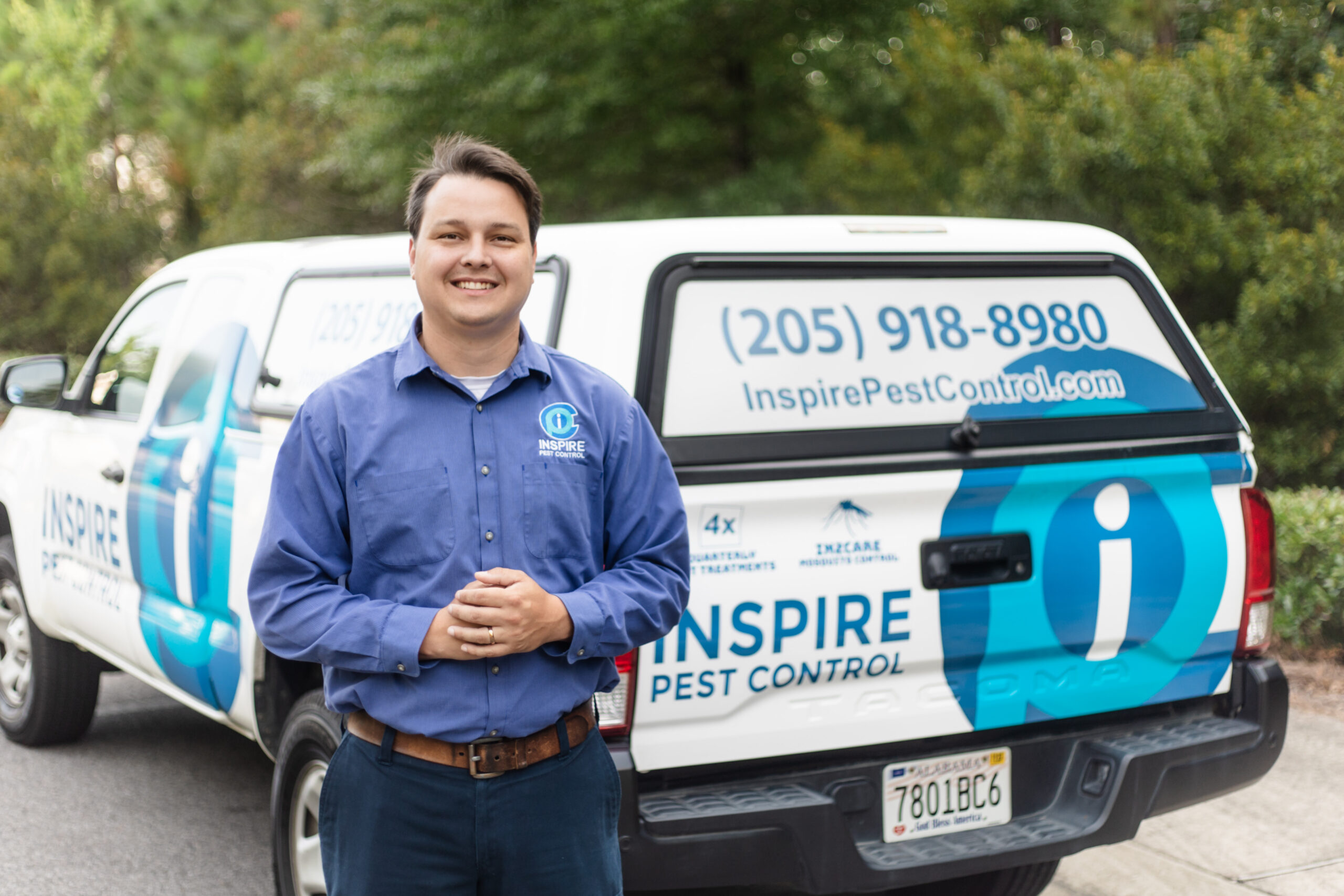 About the Owner
Jared has over 9 years of experience in the pest control industry; however, his true love with bugs came back in 1998 when his mosquito life cycle experiment was the runner-up at a school science fair project. To this day, he believes the teachers were too critical of his tri-fold poster and did not give the uniqueness of the experiment enough credit! Not to be discouraged by his teachers, Jared opened Inspire Pest Control in the Spring of 2019 and has been growing exponentially ever since! Jared and his lovely wife Ashley married in March 2020. They live in the Monte Doro area of Hoover Alabama with their Goldendoodle, Crosby.
Discover why our customers love us and have declared us to be an asset to their home care and maintenance game plan.